Hyperinteger "Shifting Seasons" (Black Vinyl!)
€8,00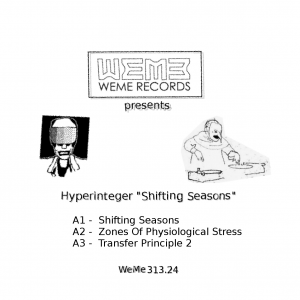 WeMe313.24
Black Vinyl!
WeMe and Cunz Dimension join forces yet again to drop a smooth, seasonal soother of an EP by Hyperinteger…
Deeply indebted to The Other People Place & the magickal powers of the Alpha Juno 2, the team at Hyperinteger set out to interpret
how dimensional & temporal changes affect our psyche. Never afraid of going deeper than most, the boys take us on a turbulent journey from spring through winter and on and on….
Not included digital !!
digital sales : digital from Cunz Dimension's bandcamp
https://cunzdimension.bandcamp.com/
| | | | |
| --- | --- | --- | --- |
| A1 | Shifting Seasons | 3:55 | |
| A2 | Zones Of Physiological Stress | 4:14 | |
| A3 | Transfer Principle 2 | 5:40 | |
| B1 | Solar Radiation Protection | 5:33 | |
| B2 | Ultrapower | 5:10 | |
| B3 | ZFC | 5:35 | |