ReQuest "Disciples of the Abyss" (Transparent Vinyl!) PRE-ORDER!
€8,00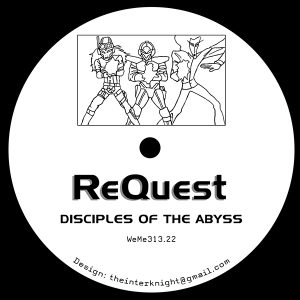 WeMe313.22
PRE-ORDER! WILL BE READY FOR SHIPPING 13th Septembre 2019
Special limited (Transparent vinyl ! – only on this website!)
ReQuest is the project of Marcus Paul from Chicago, one of the younger brothers in the Paul clan (of Hyperinteger et cetera)
When discovering Drexciya's masterpiece compilation "The Quest" he fell into a comatose dream world and when he awoke decided to transcribe what he saw & heard in this world of phantasms
Grimy streets broken under moral collapse… submerged city blocks drenched in failing neon light, infested with pollution… the eye of the interglobal police guard watching your every step, listening for every breath… smoke and mirrors, death and addiction…
More to come
Not included digital !!
digital sales : digital from Cunz Dimension's bandcamp when it's released
https://cunzdimension.bandcamp.com/
| | | | |
| --- | --- | --- | --- |
| A1 | The Technoseer | 4:23 | |
| A2 | Magnetized Monsoon | 2:16 | |
| A3 | PSI-State Military Dredge Squad | 5:14 | |
| B1 | Narcophunk | 4:18 | |
| B2 | IC-X3 Patrol Cruiser M | 2:30 | |
| B3 | Dealers in Cheap Death | 2:13 | |