UNDIAGNOSED "We Are" BOX4LP (BlackVinyl!)
€23,00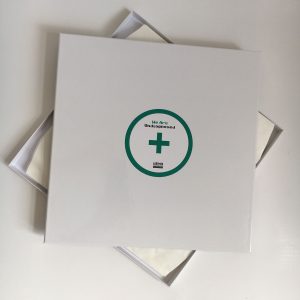 WeMe060 BOX 4LP BlackVinyl !
For immediate release:
Undiscouraged…Undialectical…Undisciplined.
A bit like Charles II and the woodman or the Raising Hand Appreciation Society…
All for one and every man for himself…
A sunflower in a sunflowers field…
Abstraction is often one floor above you.
Sometimes, all you need to do is completely make an ass of yourself and laugh it off to realise that life isn't so bad after all.
But memories WE used to share is no longer coherent to what we've done..
Chapters assembled and programmed between then and now.
WE are Undiagnosed
Connect…Resume…Listen.
digital sales: https://undiagnosed.bandcamp.com
| | | | |
| --- | --- | --- | --- |
| A1 | Coproxalax | 3:40 | |
| A2 | iXodrosis | 3:27 | |
| A3 | Acvinine | 4:50 | |
| B1 | Neurolaxicine | 4:52 | |
| B2 | Triaxan | 3:36 | |
| B3 | Shadownoy | 3:51 | |
| C1 | Amphedril | 3:31 | |
| C2 | Arium 13 | 3:36 | |
| C3 | Ketaproxofen | 5:07 | |
| D1 | Ketalaxocillin | 4:41 | |
| D2 | Methocillin | 5:33 | |
| D3 | Ch4 | 4:36 | |
| E1 | Altana | 3:59 | |
| E2 | Neurocillin | 4:49 | |
| E3 | Dalaxocide | 3:31 | |
| F1 | Ramorphitin | 4:14 | |
| F2 | Metadalaxamic acid | 3:39 | |
| F3 | Ch3 | 4:25 | |
| G1 | Diafexa | 4:15 | |
| G2 | Cider X-3 | 4:36 | |
| G3 | Texa | 3:42 | |
| H1 | Fluzerman | 4:18 | |
| H2 | C inx Dos | 3:36 | |
| H3 | LPR07 | 4:01 | |